I wanted to give ya'll a little something something for the week since I've been so swamped with the KS, Otakon, and family visits! So here's a nice little illustration of goodwill and love to express how ABSOLUTELY BESIDE MYSELF WITH JOY I AM THAT THE KICKSTARTER HAS DONE SO WELL THUSFAR!! But speaking of the Kickstarter...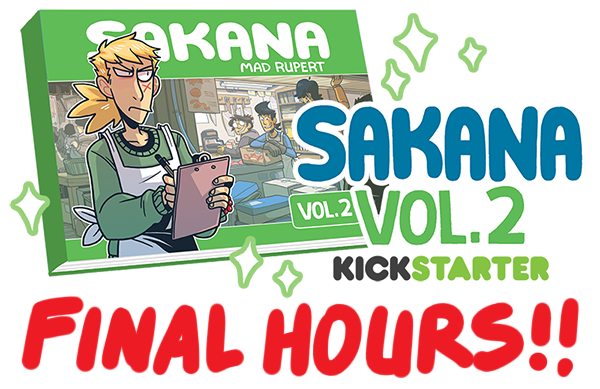 The SAKANA: V2 KICKSTARTER HAS ENTERED ITS FINAL HOURS!! As of this posting, the campaign has 27 hours left!!
>>Click HERE to check out the SAKANA: VOLUME 2 KICKSTARTER<<

All of the stretch goals have been announced, and the final one is at 55k! CAN WE MAKE IT IN TIME?? CAN WE PUT ON A BURST OF FRESH ENERGY RIGHT AT THE VERY END???
The final stretch goal is a BRAND NEW 12-page minicomic that would be FREE FOR EVERYONE TO READ, regardless of whether you were able to pledge to the Kickstarter or not! I wanted to end with something everyone could enjoy, so hopefully we can hit it before time runs out!!
NOW'S THE TIME TO HOP ON BOARD!! The V2 Kickstarter ends at midnight (EDT) on Thursday night!! If you were waiting to pledge, PLEASE WAIT NO LONGER!! THE END FAST APPROACHES, MY FRIENDS!